Tutorial
Edit content lets you change any articles that are existing.
Editing a Content Page can be found under Content Pages Edit Page
Click each section to expand it to learn more.
How to Select the Page to Edit
There are 4 ways to choose how to edit a content page:
(1) Drop Down List from the 'Select Page to Edit' field

---
(2) Type the content page number into the 'Enter Page Number' box

---
(3) Enter the Keyword Rich URL

---
(4) Click 'Edit Page' from the top nav bar when viewing the actual page. Edit Page can be found in the CONTROL PANEL drop down menu

Preview the Page
To see what the page looks like, you can click on the hyperlinked page number on the top right of the edit screen.

Update the Settings in the Edit Content page
You can change any of the settings on the page including which departments you would like the page to appear on, or any of the content such as the Headline for the article.

You can change the status of the page to update to active or to change the display options.

Update the Navigation Panels
The navigation panels appearing on the page can be updated.

Update the Text Showing on the Page
In the 'Text (or HTML) to appear on this page' box, change the text of the page content as well.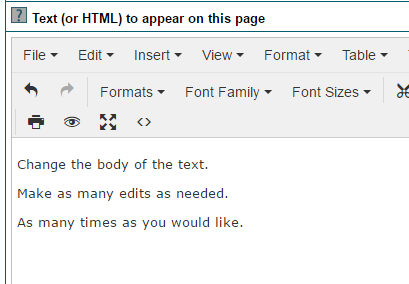 Add or Update New Images and Related Articles
New images can be added or edited. Or you can also change the related article options.