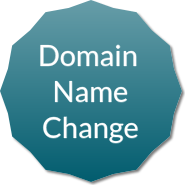 Domain Name Change Without Graphic's Support
For MemberGate owners wishing to change their domain name but do not want to have the graphics redone for them.
This fee includes:
| | |
| --- | --- |
| | Change of license agreement |
| | Re-configuration of existing site to reflect new domain name |
| | Update all of the links for the old domain name with the new domain name on existing site |
Next Steps
If your site is hosted with Hostek, please update your domain name on your hosting account and set the nameservers for the new domain to the nameservers for Hostek. The nameservers can be updated at your domain name registrar.
Hostek's nameservers are:
Nameserver 1: ns1.hostek.com
Nameserver 2: ns2.hostek.com
Please open a ticket with our support team to let us know that you have made this purchase. Please include your existing domain name along with the new domain name. A ticket can be opened by emailing our support team at support@membergatesupport.com
** IMPORTANT Note: if you have an existing SSL certificate, they can NOT be transferred to a different domain name unless you had ordered it within the last 7 days. Otherwise a new SSL needs to be purchased for the new domain name per the SSL providers policy. If you do need a new one, it can be purchased at www.membergate.com/orderssl
Related Products:
| | |
| --- | --- |
| Domain Name Change With Bespoke Graphic Design | Buy Now |
| SSL Certificate | Buy Now |