Tutorial
Article tagging allows for content organization and easier topic searching capabilities for the users.
Article Tags
To create an article tag:
1. Under 'Content' choose 'Add Content' or 'Edit Content' and choose a content page from the drop down menu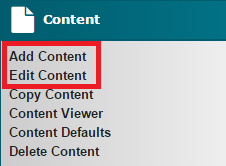 2. In the 'Article Tags' field, enter keywords pertaining to the topic of the content page. Each word can be separated by a comma.

3. The article tags will be created and automatically placed at the top of the content page. Alternatively, the tag can be placed anywhere in the 'text or html box' to manually insert the tags somewhere else on your content page.

4. Each tag will contain a link that when clicked the user will be shown a page that includes all the content page with that specific tag.

---
Cloud Tag
Add a grouping of all of the most popular tags onto your pages or nav panels.
To add the tag to your nav panel:
1. Under 'Categories' choose 'Edit Category' and select the category where the cloud tag will appear from the drop down menu


2. In the 'Script for this Category' box, paste the tag
<cf_mgtagcloud maxtags="25"> 

3. The cloud tag with the most popular tags will appear on the nav panel. The tags with the most content pages with that topic will appear larger in size.

---