Tutorial
*These instructions are for sites using the MemberGate Legacy Theme.
To change the bullet graphics that appear on your nav panel, login to your Control Panel.
1. Under 'Master Settings' choose 'Edit Nav Panels'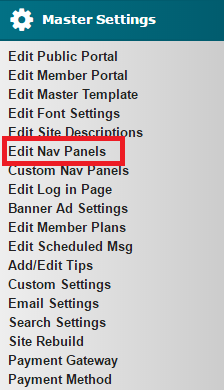 2. Find the field labeled "Bullet Image for Left Nav Panel Departments" or "Bullet Image for Right Nav Panel Departments"


3. Click the "Delete" checkbox to remove the existing graphic from the right or left nav panel.

4. Click 'Choose File' to upload a different graphic from your computer.