Tutorial
How can I set up a download for non members?
The download area is configured for members to be able to download files.
If you would like to have non-members be able to download a file, you would set it up on your site using File Upload.
1. Under 'Utilities' choose 'File Upload'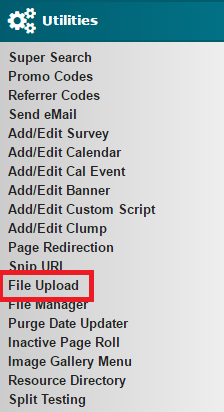 2. Choose one of the public folders from the drop down menu in the 'Select Upload Location' (Public Image Storage area would work fine)
3. Select the 'Choose File' button and select the upload file from the local storage area and choose 'Process File Upload'

4.
Copy the address of the location
of the file


5. Paste the link onto a public content department or department page in the 'text or html to appear on this page' box

---
NOTE: Before uploading, remove any spaces in the name of the file. The name of the file becomes part of the URL of the file when it is uploaded to the site. If the file name has spaces, that will create a broken link. Before uploading, rename the file so it doesn't have any space in the name of the file.

For example:

Yearly Report 2016.pdf

could be renamed to:

YearlyReport2016.pdf

or

Yearly_Report_2016.pdf