Tutorial
The header and footer can be hidden from your content pages and product pages in the shopping cart. This allows you to create a sales page or other page type without your MemberGate site identity.
A. To hide the header and/or footer on a content page
1. From under 'content' choose 'Add Content' or 'Edit Content.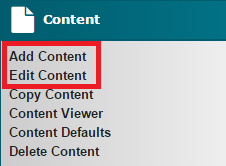 2. In the 'Show Header and Footer On This Page? select the option that you would like for your page from the drop down menu:
> Show Both Header and Footer
> Show Header Only - select this option to Hide the Footer
> Show Footer Only - select this option to Hide the Header
> Don't Show Header or Footer

---
B. To hide the header and/or footer on a shopping cart product page
1.From under the 'Commerce' section choose 'Shopping Cart'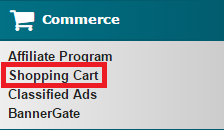 2. Choose 'add/edit product' from the shopping cart menu

3. To add a new product select 'add a new item' or select the item to edit from the drop down menu

4. In the 'Show Header/Footer' field select the option that you would like for your page from the drop down menu:
> Show Both Header and Footer
> Show Header Only - select this option to Hide the Footer
> Show Footer Only - select this option to Hide the Header
> Don't Show Header or Footer