Tutorial
MemberGate allows you to setup custom home pages.
If you setup a Custom Members Home Page for a specific plan the member will return to that home page when they click on the home link throughout the site.
This allows you to provide specific date aimed at that member group.
1. First, create the custom home page through a new content page or department and note the URL of the page. This page should be a members only department or if it is a content page, it should be assigned to a members only department.
2. Under 'Master Settings' choose 'Edit Member Plans'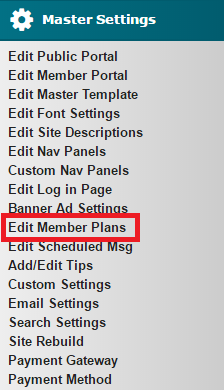 3. Select the member plan from the drop down box or choose to add a new plan.
4. The URL of the custom content or department page can be pasted into the 'Custom Members Home Page for this Member Plan?' field

5. Press the Apply Changes button