Tutorial
Different credit card types can be selected to accept for purchases made in the shopping cart. Follow these step by step instructions to set up the correct cards for your site. The credit card types that you can accept are based on your payment gateway account settings.
Adding Payment Methods
1. From under 'Commerce' choose 'Shopping Cart'.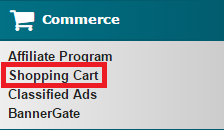 2. From the main shopping cart menu choose 'Add/Edit Payment Methods'

3. Choose to 'edit' an existing payment method or click the 'Add New Payment Method' button

4. Update the fields:
Payment Method Code - This is the code that will be sent to the merchant account payment gateway for processing. Most of the time the codes will be amex, mastercard, visa, discover
Payment Method Description - This description will be shown on the checkout form. The purchaser will select the payment method from the drop down menu.
Payment Method Status - Select 'active' from the drop down menu to use this payment method, or select 'inactive' and the payment method will not be included on the checkout form.

5. Click the 'Add Payment Method' Button