Tutorial
Prevent members from signing up for a trial period only to cancel and sign up again for another trial period. Each member plan is configurable as to whether to allow existing members to be able to benefit for a trial period if they renew their account.
To set up a member plan to prevent members from taking advantage of a trial period:
1. Under 'Master Settings' choose 'Edit Member Plans'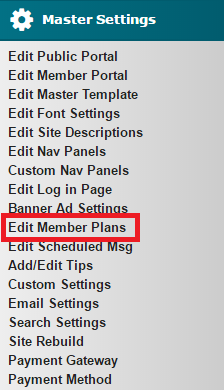 2. Choose the plan to edit from the drop down menu, or choose 'New - Add new Member Plan' to create a brand new plan
3. In the field 'Allow Existing Members to Subscribe to the Trial' choose:
Choose 'No' - this will prevent existing members from subscribing to the trial period and pricing. This member will immediately be charged the 'Plan Fee' and will be set with the regular plan days.
Choose 'Yes' - this will allow an existing member to subscribe to this plan for the trial period. They will be charged the 'Trial Price' fee and will be allowed trial access for the 'Trial Period' amount of days.
*NOTE: An existing member includes any username and email address of a member in the members database. This member may have a status of 'active', 'inactive', or 'cancelled'