Tutorial
RSS stands for Really Simple Syndication.
There are two different ways to use RSS feeds within your site. By allowing your "teaser content" to be picked up by other sites, this feature is an excellent way to get traffic to your site. Or by receiving appropriate content from other sites, it constantly keeps your pages updated and fresh.
1. Publish your site's articles in an RSS feed that others can subscribe to.
Send outgoing headlines and articles from your site to outside sites that request they "receive" your content. Other sites can "subscribe" to your feed by adding the link from your feed file to their feed reader. The feed will show as many articles that you have set as active and have the RSS option enabled.
To make content available to sites that pull from your site:
a. Under 'Content' choose 'Add content' or 'Edit content'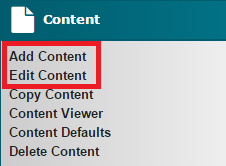 b. In the 'SSL or RSS' field choose the 'RSS' option


c. the 'Page Status' must be 'active'


Your site's RSS address is your site's url with /mysite.xml on the end of it.
For example: //www.membergate.com/mysite.xml
---
2. Display the RSS feeds from other sites on your site.
MemberGate has a built in RSS Feed Aggregator that makes it easy for you to pull headlines and links from thousands of sites world wide. Membergate's service is automatically updated several times a day, so you only have to set your RSS feed once and MemberGate does the rest.
To place an incoming RSS feed to your site:
a. Under 'Legacy/Legacy Utilities' choose 'Add/Edit RSS'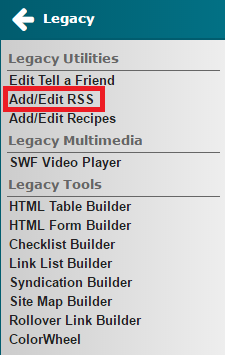 b. Select the feed you want to add


c. Add the url you want your feed to come from and the number of headlines you want to receive

d. Place the feed on your site using the cf tag that is given