Tips
Are there Shopping Cart instructions?
If you are looking for instructions on how to set-up the Shopping Cart within your site, there is a link within the Shopping Cart menu with some simple set-up instructions.

1. Under 'Commerce choose 'Shopping Cart'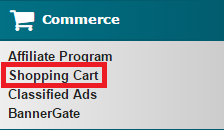 2. Within the Shopping Cart Menu, choose the last link option, Shopping Cart Instructions




You can also simply use this URL:

http://www.YourSiteName.com/members/manage/cart_instructions.cfm

- which will take you directly to the instructional page.
(note: you will need to replace www.YourSiteName.com, with your actual site name for link to work)