Tutorial
You can set up timed release of your site's content.
Yes, once you have logged into your site follow these steps from the Control Panel (CP).
---
1. Under Content choose 'Edit Content' or 'Add Content' and Choose/add the page you want to automatically publish at a later date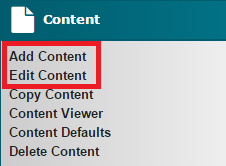 2. Under the "Active Date" set the date to when you want the page to become active
3. Under Page Status - Select "Hold Until" > Then add your page or apply the changes.

---
If using the "Hold Until" feature the page will not become active until the active date arrives.
MemberGate will then automatically formats the page to your style for you, publishes it to the web site, updates all the menus, portals, departments, and archives with your pages - instantly.
This feature allows you to think ahead and mange your web site with ease.

Some site owners set aside one day a month to "preload" their site with content. That becomes live on the dates that they have specified.