Tutorial
Set a Product in the Shopping Cart for an Affiliate to Earn Commission
Yes, the affiliate program covers your shopping cart as well as your member sign-ups.
To allow an affiliate commission on a product:
1. Under 'Commerce' choose 'Shopping Cart'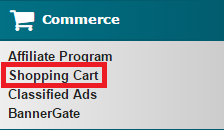 2. Select 'Add/Edit Products' from the shopping cart menu

3. Select or add product from the drop down menu and click the 'add/edit shopping cart item' button

4. Enter the commission amount in the
'Affiliate Commission Percent' and/or 'Super Affiliate Commission Percent (optional)'
fields

5.
Click the 'Apply Changes'
or 'Add this Item' buttons

6. Provide your affiliate the url to create a link to send to their list