Tutorial
Affiliates do not automatically get commission reports, so it is necessary to manually send those out.
Commission reports probably should be sent out prior to paying the affiliates so they can see how much they will be receiving. The report is set-up to send to all your active affiliates.
To manually send the reports:
1. Under 'Commerce' choose 'Affiliate Program'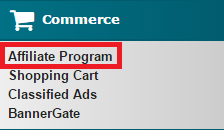 2. Choose 'Send commission Reports to Affiliates' from the Affiliate menu


3. Add the text to go above or below the pre-written report
- Be careful, the message entered will be sent to all active affiliates.


4. Click 'Preview Message'


5. Click 'Send Message'