Tutorial
We added another additional layer of security to our sites which protect free subscription forms.
If you see the following message:

The following problems were found:

* You cannot add complimentary subscriptions from this form.

Please go back and correct these entries.

Do the following to add the complimentarty form:


Control Panel
Under Master Settings choose Edit Custom Settings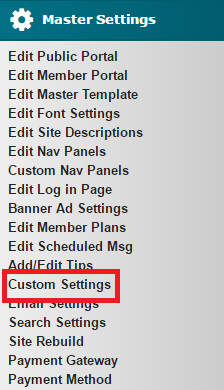 Complimentary Payment Pages - Enter the page number here.


Note

(If you have you own custom pages like 'secretpage.cfm' just enter 'secretpage')


You don't need to include the ".cfm"
You can add multiple pages by separating with commas


If using a Keyword Rich URL on your complimentary subscription page, you must also include the Keyword Rich URL for the complimentary subscription form, including underscores (Ex: Two_Day_FREE_Trial_Subscription_Form would be put into the "Complimentary Payment Pages" field along with the content page number).