Tutorial
Refunds for memberships purchased through a subscription form can now be processed directly through the MemberGate control panel.
Refunds and partial refunds can be run for the membership fees that were paid. Refunds are reflected at your payment gateway account, and are documented in the transaction history and customer reports.
1. Under 'Members' choose 'Edit Member Details'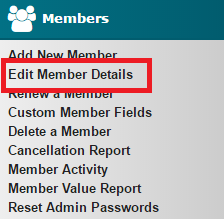 2. Enter in information for the member and select 'Edit'
3. Next to the Members First Name, choose the 'Transactions' link

4. Click on 'Refund'

5. Input the amount of the refund. The refund screen allows you to input refunds or partial refunds for membership fees. Comments can be input into the customer files for refund reasons.

6. Refunds are documented and totaled in the Member's Transaction History page.

*NOTE: Refunds can only be run if the card on file has not expired and the active payment gateway is the same gateway that was connected at the time of purchase.
If the transaction hasn't settled yet, the transaction can be voided.