Tutorial
How can I automatically find out when a message is posted in my discussion forum?
**This pertains to the old forum.
1. Under 'Legacy Forums' choose 'Edit Forum'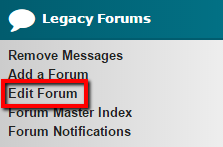 2. In the form field 'Send eMail Alert' choose 'Yes'


The forum moderator will automatically receive an email when a post is made to the discussion forum.