Tutorial
Departments are sorted in the navigation panel based on their Department Link Rank.
If you want to move a department up or down in the list:
1. Under 'Departments' choose 'Edit Department'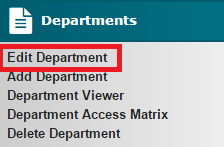 2. Select the department to move.
3. Update the 'Department Link Rank' field. The ranking can be from 01-99. The lower number will appear higher on the listing, a higher number will move the department link lower on the list.