Tutorial
To delete an order from your Shopping Cart, follow the steps below:

1. Under 'Commerce' choose 'Shopping Cart'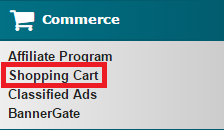 2. In the Shopping Cart menu, select "View Unfulfilled Orders"


3. Click on the order number that should be deleted


4. At the bottom of the "View Order" form, click the "Delete Order" option (middle button)


5. Confirm deletion by pressing "Okay" when the warning screen appears**


6. Order is now completely deleted.

**Orders from the shopping cart can be deleted within the Shopping Cart menu, but once deleted all traces of the order, including any affiliate commissions, will be removed from your site indefinitely.