Tutorial
How can I edit an image gallery comment?
1. Under 'Utilities' choose the 'Image Gallery Menu'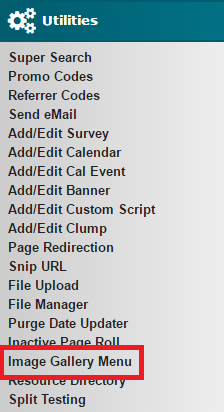 2. Click on 'View, Edit Images' from the image gallery menu

3.
Select the category of images
to edit from the drop down menu in the 'Image Categories' field (or type in the image number)

4.
Choose 'Edit'
under the image where you would like to edit the comment.

5. Edit the 'Image Comments' field and choose the 'Submit' button