Tutorial
To edit which navigational panels appear on your login page, http://www.YourSiteName.com/members/login.cfm:
1. Under 'Master Settings' choose 'Custom Settings'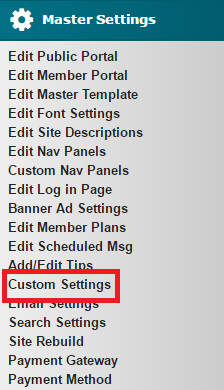 2. Update the settings in the field 'Login Page Nav Panels'

3. The options include having both the left and right navigational columns to appear, only the left, only the right, or neither to show.
4. Click the 'Apply Changes to Settings' button to apply the changes