Tutorial
I had an affiliate signup for my site under their own affiliate link, violating my affiliate policy. How do I refund that commission so I don't have to pay the affiliate for it?
1. From the Control Panel under 'Commerce' choose 'Affiliate Program'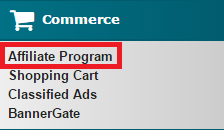 2. Choose 'Sales Report' from the Affiliate Program menu


3. Click the 'View' link for the affiliate whose commission needs to be refunded.


4. Click 'View Transaction History'


5. Enter the order number of the sale that violated your policy in the 'Enter Order Number to Refund Commission' field and click 'Submit Refund'.