Tutorial
In order to get your site to contain information prevalent to your site, you probably want to "hide" a lot of the MemberGate articles.
To take the preloaded information off your site, set the articles to inactive and move them to your Work Pages Department.
1. Under 'Content' choose 'Edit Content'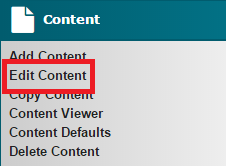 2. Choose the MemberGate article you want to hide from the drop down list.
3. In the first form field, 'Department', choose 'Work Pages' (Department 1)

4. In the form field 'Page Status', choose 'Inactive'

At a later date, if you feel confident enough that you don't need to refer to those pages any longer, you can write over the text that is there and use the page as you wish. (It is never a good idea to delete any content pages).