Tutorial
To make a department available for anyone to see what contents are contained inside, but only members are able to view the content:
1. Under 'Departments' choose 'Edit Department'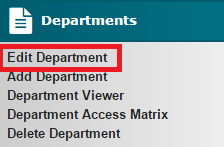 2. Choose the department to edit from the drop down menu
3. In the 'Department Access' form field choose 'Member's Only'

4. In the 'Build & Display Public Version of Member Dept' form field choose 'Yes, Build Public Department Portal' This gives access to the public to be able to view the department headlines and teaser copy. Only members will be able to click on the links and read the entire article.