Tutorial
Steps to Change Member Passwords
To change a password for you or a member on your MemberGate site, please follow the below steps:


Under 'Members' choose 'Edit Member Details'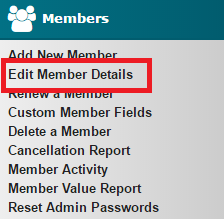 2. Using one of the search fields, find the account and click 'Edit'

3. Within the user's account, under the '
Account Details'
area,
enter a new Password in the '
New Password Desired' and 'Confirm New Password' fields

4. The box will turn red if the password parameters are not met. A password must be 8 characters, contain 1 uppercase, 1 lowercase and 1 numeral

5. Click the 'Apply these Changes' button



You can also create additional admin accounts following the knowledge base article below:

How do I add additional Admin users?