Tips
When a recurring billing occurs, the system looks in the 'affiliate referrer' field (on the Edit Member screen) to see what (if any) affiliate should get credited for the sale.
You can remove the information in this field to sever the relationship. However, we recommend creating a separate affiliate account just for this purpose. Then go in and edit the membership(s) in question, put the new affiliate account code in there and apply changes to it. That will insure that you have a record of which ones you changed.
1. From under 'Members' choose 'Edit Member Details'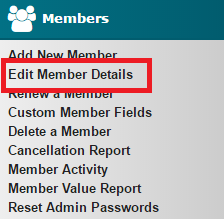 2. Enter in information for the member and select 'Edit'
3. In the 'Affiliate Referrer' field, edit or delete the contents.