Tutorial
How do I set which membership plans access which forum?
CFMBB Forum:
1. Under 'Discussion Forums' choose 'Edit Forum' or go into the 'Forum Admin'




2. Choose 'Forums' from the left menu

3. Select the forum

4. In the 'Forum Access' box, choose the member plans that can access the forum. Use the 'control' key to select multiple plans.

---
Legacy Forum
1. Under 'Legacy Forums' choose 'Edit Forum'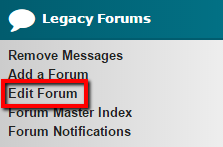 2. In the form field 'Member Plan Access' choose which member plans can access that department - Choose Multiple Options by pressing the Ctrl Key and clicking selections