Tutorial
The Members Price price can be displayed or hidden on the product item page.

1. Set the name for the Member's Price

1. Under 'Commerce' choose 'Shopping Cart'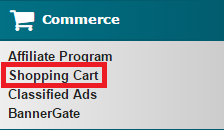 2. Choose 'Edit Shopping Cart Settings' from the shopping cart menu


3. Look for the 'Member Only Price phrase' and enter a phrase that will describe the members price on the product page


4. Rebuild the shopping cart from the Shopping Cart Admin Menu by choosing 'Rebuild Shopping Cart'

2. Set the Members Only Price

1. Choose 'add/edit products' from the shopping cart menu and select a product from the drop down menu.


2. Add a members price in the 'Members Price' field

3. The members price will show on the product description page.