Tutorial
If the video is in .wmv, .avi, .mov or .mpg it can be uploaded using the cf_mgvideo tag.
1. To load the video onto your site:
a. Under 'Utilities' select 'File Upload'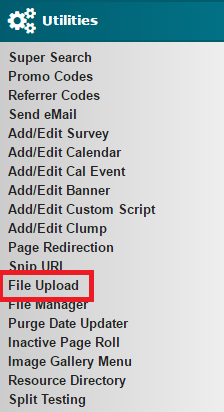 b. In the 'Select Upload Location' select 'Video Folder' from the drop down box

c. Click the 'Choose File' button and select the video file from the local drive

2. The site will give a confirmation when the file has been uploaded and the direct url to that file will be displayed. Note the name of the video file (e.g. "myvideo.wmv")

3. To place the video on a content page
a. Under 'Content' choose 'Add Content' if the page is new or 'Edit Content' if the video is being added to an established page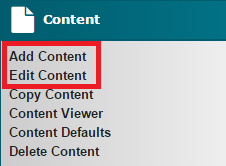 b. Place this code in the appropriate spot of the article.
c. Replace "myvideo.wmv" with the name of the uploaded video d. Replace "Click on this link to watch the video" with the text the visitor will see as the clickable link to the video

If the video is a .flv or .mp4 file, it can be uploaded with the Video Player.
Click below to view the video tutorial on using Flv Video Player:
//www.membergate.com/public/Embed-a-Video-Using-the-Built-in-Player.cfm