Tutorial
The add and edit department options let you add to or edit existing departments on a MemberGate site.
Adding a Department can be found under Content Departments Add Department
Click on each section to expand the section and learn more about the setting when adding or editing a department page.
What is a Department?
Departments
Departments appear on your navigational panels and provide a convenient way to organize articles based on subject matter.
Sample Department Links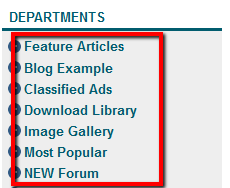 Sample Department Main Page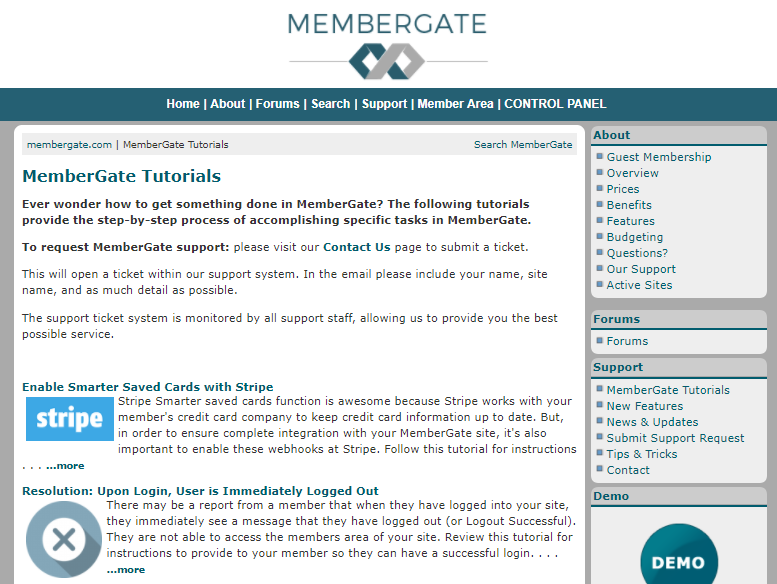 Description, Access and Category Fields
Description, Access and Category
The name of the department is added to the

Department Description field.


Choose who can access the department. The

Department Access

is set for whether it's for public or members only.


Choose which category heading it is to appear under. The categories can be set up in the control panel of MemberGate (under the 'Categories' section).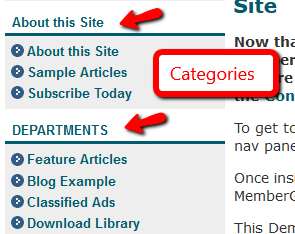 Navigational Panels
Navigational Panels
Choose whether the navigational panels are shown on its pages and whether they are shown on just the public side,
just the member side or on both the members and public pages.

Headline
Headline
The headline for the department page can be added here.
It is shown at the top of the department's main page.


Main Body Text
Main Body Text
Text for the department page can be added which will show below the headline.
That text is added to the Body Text to appear on the first page of this department box.

Graphics and Teaser Copy/Headlines
Graphics and teaser copy headlines
There are options to add graphics to the page as well as choosing how many content page headlines and teaser copy will appear on the department's main page.

Department Link
Department Link
The department link will automatically be published on the nav panels that you have specified.
Those settings can be updated in the 'Show Department Link...' field

Add the Department
Add this Department
When completed, click the button. A view of the page will appear below. There are other buttons available to click to edit the department some more, or to add another department.