Tutorial
If a member cancels, they will have access to the site until their renewal date hits.
For example, if a member has paid for service through November 30th and they cancel on November 15th, they will be able to access the member's area of the site until November 30th.
If you wish to stop their access immediately then:
1. Under 'Members' choose 'Edit Member Details'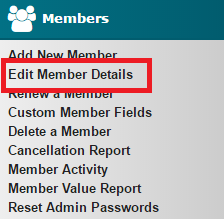 2. Edit their profile

3. Change their status to "inactive"


4. Press 'Apply Changes'