Tutorial
The referral program bonus time system allows you to reward members for referring other members without having to use the affiliate program.
Member Referral Program
To set this up:
1. Under 'Master Settings' choose 'Edit Member Plans'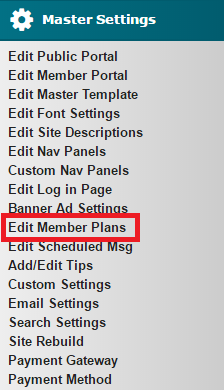 2. Select the plan from the drop down menu or choose 'New - Add a New Plan' to create a brand new member plan.
3. There are two fields that can be updated to allow bonus time:
'Bonus Days to Apply to Subscriber' - enter a number of days earned by the new subscriber upon submitting the subscription form. These days will be applied at the end of the first regular recurring billing period (they will not be added to any trial periods).
'Bonus Days to Apply to Member Referrer' - enter a number of days earned by the existing member who referred the new subscriber. They will be added to the end of the next renewal date for the existing member.
*NOTE: Bonus days can be added to one or both of those fields.

4. In order for a member referrer to be credited with the bonus days, the subscription form also needs to be modified. Please see the steps below.
---
Adding Referrer Field to the Subscription Form Generator
1. Under 'Tools' choose 'Subscription Form Generator'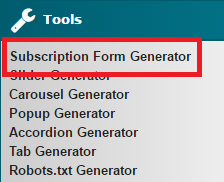 2. In the 'Member Referrer' field, uncheck the box to Hide the Member Referrer

3. If necessary update the name of the field that you would like to see on the subscription form

4. The subscriber filling out the subscription form will have to add the username of the member who referred them.