Tutorial
When a subscription form is submitted a new member can now automatically be redirected to one welcome page while renewing members can be sent to a different welcome page.
A new member may need to have different 'welcome to our site' information than a renewing member. Two different content pages can now be set up so when a new member successfully subscribes, they will be directed to the new member information page while a renewing member will be directed to the 'welcome back' information page.
The pages are set up per member plan so they can be custom for every member plan or the same for each plan. Whatever works best for your site can be set up. These two pages can also be the same per member plan as well.
Setting the Welcome Pages in 'Edit Member Plans'
1. Under 'Master Settings' --> choose 'Edit Member Plans'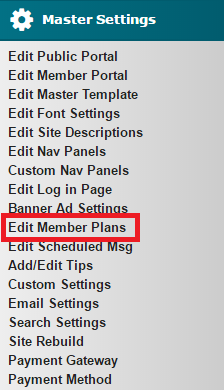 2. From the drop down menu, choose to edit an existing plan, or choose to add a new member plan.

3. Add a content page number to the 'New Member Welcome Page' and add a new or different content page number to the 'Renewal Welcome Page'