Tutorial
The download history of a product ordered through the shopping cart can now be tracked via the order receipt as well as in a download history report.
The history will show how many times a product was downloaded as well as the dates it was downloaded and from which IP address.
A. Download History On the Order Receipt
1. From under 'Commerce' choose 'Shopping Cart'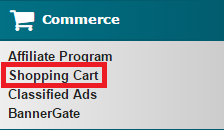 2. Choose 'Find Orders' from the menu.

3. Select one of the options to find the receipt to review.
4. Click 'Toggle Downloads' to find the results

B. Run a report for download orders from shopping cart purchases
1. From under 'Commerce' choose 'Shopping Cart'

2. From the Shopping Cart Menu Select 'View Reports'

3. Select 'Order Downloads Report'

4. Select the Report Settings from the drop down boxes and generate the report

5. Resulting Report with download fields