Tutorial
Set up your member plans to automatically collect subscription plan taxes for those states/countries that require them.
1. Add tax rates. From the shopping cart menu choose 'Add/Edit Sales Tax'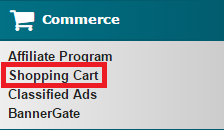 2. Enter in the appropriate tax information. If this tax rate is required for subscriptions as well, choose 'Yes' from the 'Tax Subscriptions' field. This tax will also be added to product orders and shipping (if selected) for that state/country.

3. Lastly, set the 'Member Plans' to choose to tax the subscriptions. Under 'Master Settings' choose 'Edit Member Plans' and select the plan that is to be taxed. In the 'Charge Tax on Subscriptions' field choose 'Yes'. This will charge a tax for all members on the plan who are from a state/country that has a tax associated with it AND is set to charge a tax on subscriptions.