Tutorial
Make some of your affiliates Super Affiliates so that they can earn a higher commission on affiliate member purchases.
To make an affiliate a Super Affiliate:
1. Under 'Commerce' choose 'Affiliate Program'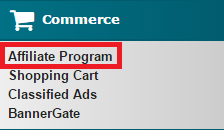 2. From the 'Affiliate Program Menu' choose 'Referrer Report'

2. Click on 'View' for the affiliate that to upgrade.

3. Click 'Modify This Profile'

4. In the 'Super Affiiate' field choose 'Yes' to make the affiliate Super or 'No' to set them at the normal affiliate level. Then choose 'Process'

5. The Super Affiliate levels can be set per plan in 'Edit Member Plans' and per product in the shopping cart. If there are two different commission amounts, the super affiliate will receive the higher of the two commission rates.