Tutorial
Where can I change the image on my homepage?
To add or change the image on your homepage - the public portal page:
1. Under 'Master Settings' choose 'Edit Public Portal'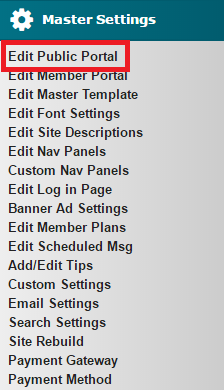 2. In the form field 'Graphic to Appear at the Top of Public Portal Page' select the 'choose file' button and choose the image from your local drive. The image can be a png, jpg or gif.

To edit the image in the Members area 'Homepage', under 'Master Settings' choose 'Edit Member Portal' and follow the same instructions.