Tutorial
A download file can be added to any page on your site, public or members only, using the File Upload tool within the Control Panel.
The download can be uploaded to the Public Storage Area or Member Storage Area using the "File Upload" utility in your Control Panel.

After the download has successfully been uploaded through the "File Upload" screen, the system will provide the URL.

The URL can be pasted into a content page so users can download the file directly from the page.
NOTE: Any file uploaded through the 'File Upload' option is not protected. Non-members would be able to access those files.


Using File Upload:
1. Under 'Utilities' choose 'File Upload'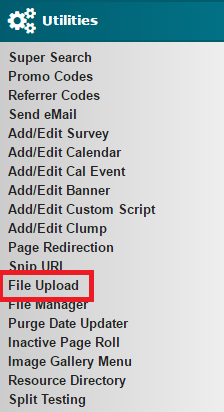 2. In the 'Select Upload Location' choose 'Public Image Storage Area' or 'Member Image Storage Area' from the drop down menu

3. Click the 'Choose File' button and select the file from the local drive. Click the 'Process File Upload' button



4. Note/Copy the URL address of the file once the upload is complete - it will look similar to this:
Upload File Results
File Upload was successful
File URL: http://www.YourSiteName.com/public/images/image.jpg
Link: http://www.YourSiteName.com/public/images/image.jpg

4. Place the Link onto a the content page/department for the download to be available for users


Please note: when the link for the download is clicked, in some cases the download option will appear automatically, usually for PDFs and other word files. However, with audios and videos a user will need to RIGHT CLICK the link and choose the "Save Link As." or "Save Target As" option to save the download to their computer.

If the file should only be accessed by members as a file that is added to the site using 'File Upload' is not protected

- Add a content page into a members department and enter the following code to the body of the content page:

cflocation url="http://www.AddressOfUploadedFile.com"

This will allow the software to automatically publish the content page headline and teaser copy so that only a member will be able to click on it to view the page. They will in turn automatically view the file uploaded. Please note though, that the actual file address will NOT be protected. If the member were to copy the web url and pass it on, it could be viewed by a non-member. Only the automatically published headline for the content page will be protected.

Otherwise the download file can be added to the Download Library to be fully protected.