Tutorial
The new Dual Login Lockout feature is configurable and allows you to set the lockout feature on your site to one of four separate options.
1. Within the Control Panel, under Master Settings, click "Custom Settings":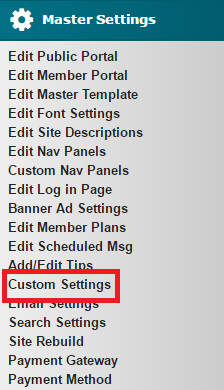 2. Within the Custom Settings menu look for the field "Dual Login Lockout Options":

3. There are four options to control what happens when a dual login occurs:
- Lockout Members when Dual Login is Detected: will lock the member account immediately
- Prevent Log In, but Do Not Lock the Account: will not allow the second login access to the member area of the site
- Give User Option to Log Out other Sessions: will allow user to log out other sessions
- Disable Dual Login Detention: will allow multiple logins for members

4. Select the best choice from the drop down menu and apply changes. This can be switched if needed.