The "Rank Editor" allows you to classify your members based on how many forum posts they have made. This is useful to help differentiate new forum members from those that are more experienced.
Each rank is given a name and a minimum number of posts. Here is an example:
New Forum Member - minimum 1 post
Forum Ninja - minimum 100 posts
A member who posts at least once will see "New Forum Member" displayed next to their Forum Username whenever they post.
Once that member posts 100 times, they will see "Forum Ninja" displayed next to their Forum Username.
Using the Rank Editor for Forum Users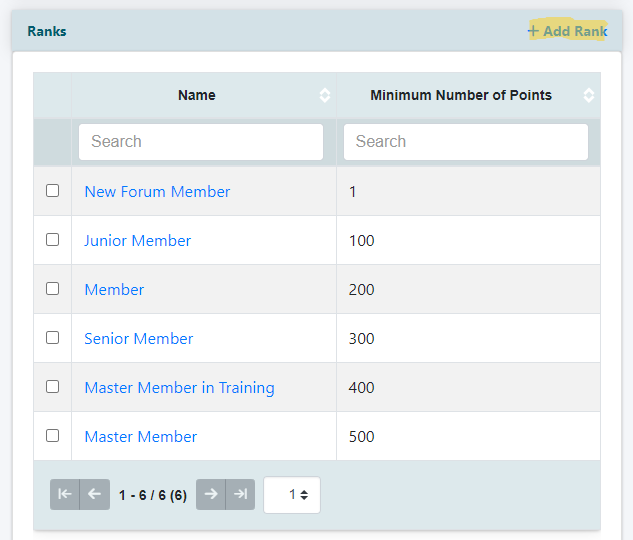 Points Settings
Managing the names of the forum ranks can be found under Discussion Forum Points Settings
Add Rank
The ranks can be added and edited under the Rank section. Click on Add Rank to add a new one for your members.
Name
Enter a name for this rank level. This is the description of the rank that a member meeting the point requirements will be called. For example, Blue Chip could be used for a new member, or Forum Master could be fitting for a veteran of the forum that participates a lot.
Minimum Number of Points
Enter a numeric value. This is the least amount of points a member can have to reach this level.
Points Image
Click Upload Image and select an image from the local drive. This will act as a badge that will show in the members profile area of a post.
Save
Click on the button to add this rank name to the site.