Content page 29 was the catchall redirect for members trying to access anything that is not included in their member plan benefits.
Since one page does not fit all needs, create different custom pages for members to redirect when trying to access a restricted page.
The custom unauthorized page can be set up at the department level OR member plan level. If no custom unauthorized page is set, the user will still redirect to the generic page on content page 29.
*The first step for custom unauthorized page is to create a PUBLIC content page. If necessary, review the tutorial for adding a content page.*
How to Setup an Unauthorized Page for a Department and it's Content
A member who does not have access to a page in a department will automatically be redirected to this page. This page should include a customized message about this department and how the member could get access.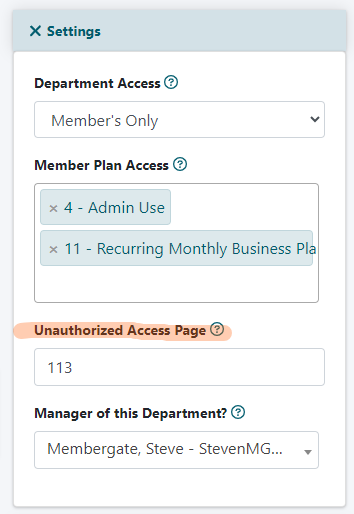 Edit the Department
The unauthorized page can be set at the department level under Pages Departments Edit Department
Settings
Click the to open the 'Settings' section if necessary.
Unauthorized Access Page
Enter the content page number for the custom page that restricted members should be redirected to.
*The unauthorized access page is only available in departments that have the access set to members. It will not be available for public departments.
Save
Click on the button
How to Setup an Unauthorized Page for a Specific Member Plan
If a member tries to access a department that they do not have access to redirect them to this custom content page.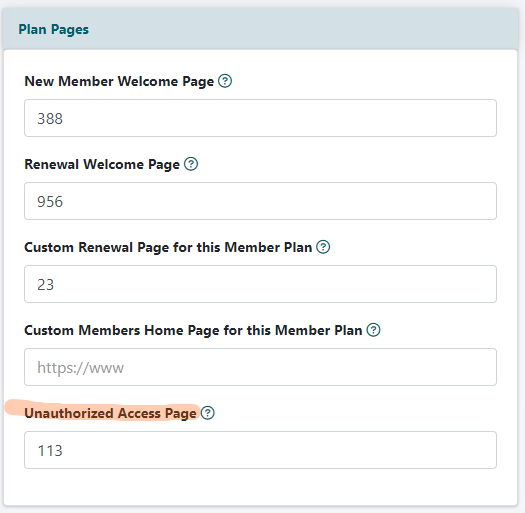 Edit Member Plans
The unauthorized page can be set at the member plan level under Members Edit Member Plan
Unauthorized Access Page
Under the 'Plan Pages' section, enter the content page number in the 'Unauthorized Access Page' field.
Save
Click on the button
Visit MemberGate on Social Media!
Our social media sites (facebook, twitter and instagram) have become much more active as of late! Come visit us to follow or like or share with MemberGate! The latest features or reminders of older features, news, updates and tips and tricks will all be published on our social media pages. Stay updated with MemberGate!