Tutorial
The member plan report shows a listing of all the member plans that you have on your site.
It shows the name of the plan, if there is a trial price and how much it is as well as how many days the trial is set, the price of the plan and the number of plan days, if it has recurring billing, and the number of days before a renewal notice is sent if it is a non-recurring billing plan.
The last 4 columns include the number of members in that plan. It shows the number of active, inactive, cancelled or members in billing failures.

Click on each section to expand for more information.
The Member Plan Reports can be found under Reporting > Members > Member Plan Reports
The Member Plan Reports can be found under Reporting Members Member Plan Reports
Using the Information in the Member Plan Report
Using the Member Plan Report
Review the Messages included on the Member plan by Email
The customized messages that are sent out members of the plan can be tested and sent to your admin account for review. Click on the top envelope next to a member plan to send a sample of the emails like the 'Welcome Message', 'Renewal Message' and 'Billing Failure Messages' for that plan to your email account.
Edit the Member Plan
Click on the EDIT link found under the envelopes to visit the edit screen of the member plan. Any changes to the member plan can be made on the edit screen.
Visit the Pages on the Site Related to the Member Plan
Each member plan has a Welcome Page, Renewal Page and Custom Renewal Page for the users to be redirected to upon subscribing to your site. Those pages can be visited by clicking on the appropriate link so you can quickly review that page and edit if necessary.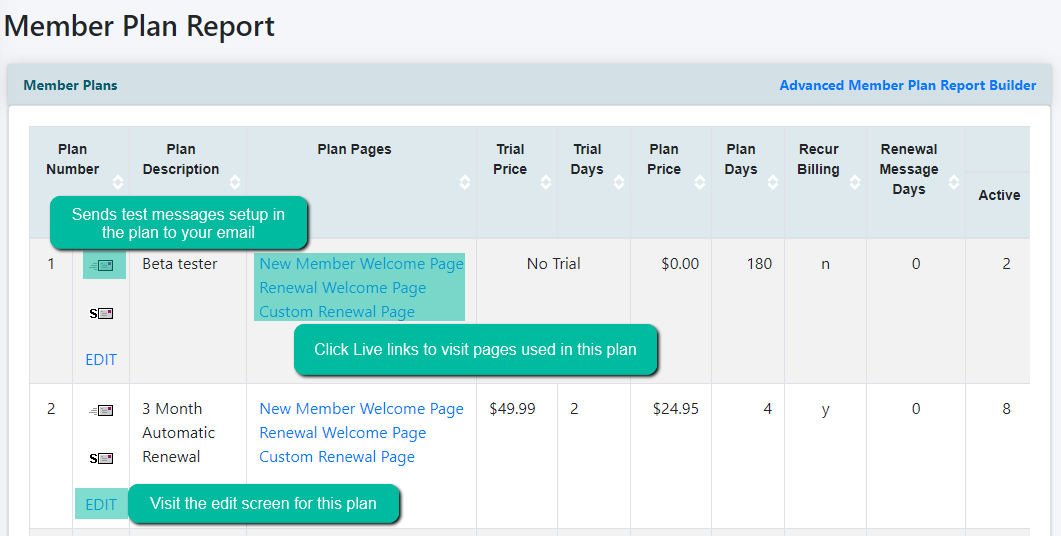 Build a Custom Member Plan Report
Build a Custom Member Plan Report
Click 'Advanced Member Plan Report Builder' to build a custom member member plan report that includes information on your member plans.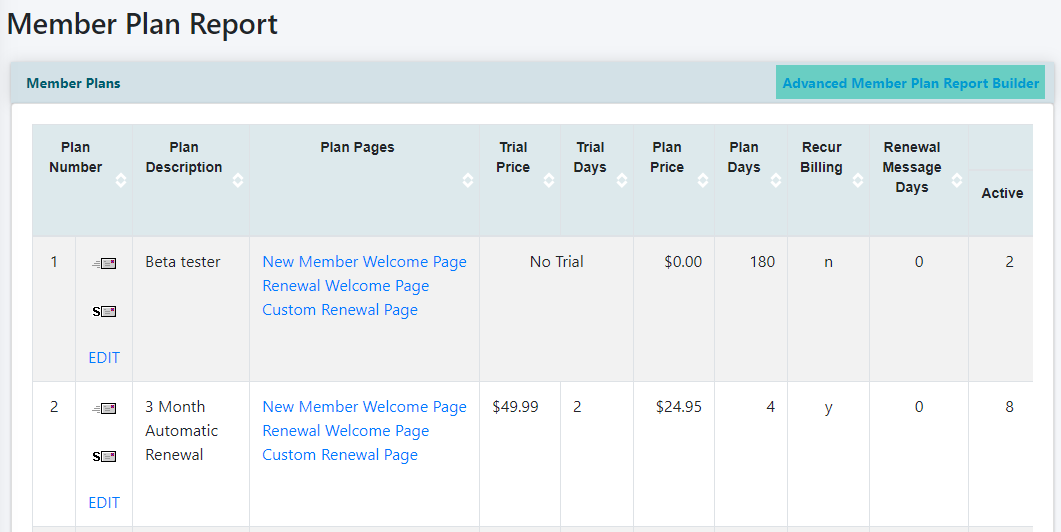 How to Run the Advanced Member Plan Report Builder
Update the fields to run the report that meet your criteria.
The report parameters can be set to target the results, and sort by specific fields. The results can also be sorted after the report is generated.
Press to run the report and save it so it can be run again in the future.
Or press to run the report just this one time.